Collections
Shop for artwork based on themed collections. Each image may be purchased as a canvas print, framed print, metal print, and more! Every purchase comes with a 30-day money-back guarantee.
About SANTIAGO CHAVEZ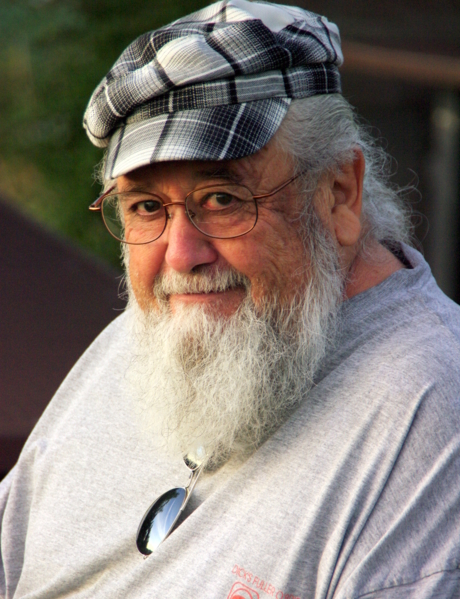 Born "at home" in 1940, the third child of what was to be a family of ten children, Santiago grew up to appreciate the simple things in life and nature. There was no money for art training, but as long as he had a pencil and a "RED CHIEF" tablet of paper, he was happy sketching the world around him, after chores, school and other demands on his time. At about age 10, he and Rudolfo Anaya, a neighbor and future author, were playing "cowboys and indians", but Rudolfo had a real BB gun. As fate would have it, Santiago hid in a shed, peeking through a knot hole, when Rudolfo fired, scoring a direct hit on Santiago's right eye. Rural New Mexico was no place to treat such an injury, so he was sent to Saint Joseph's Hospital in Albuquerque. Miraculously, after what seemed like weeks, and the day before they were going to remove the eye, he "saw" a "greenish" light through the damaged eye! He never regained much vision in that eye, and in later years, a cataract formed, but as a one-eyed artist, his sense of perception and depth in his paintings is truly amazing!
The day after graduation from high school he was on a bus to Monterey, California to be taken in by older brother Ron and family. Here, he found work as a bus boy, and eventually waiter, at the famous Casa Munras Restaurant and Highlands Inn. He was finally exposed to an artistic environment. This led to classes at Monterey Peninsula College, where he chose business courses, but the natural beauty of the area, the "artsy" atmosphere, and his family's encouragement, led to buying a set of "oils". His very first painting is still "in the family" because it was secretly rescued from the trash by sister-in-law Pancha. Discouraged by initial results, Santiago put away his paints and brushes for many years, and got on with his "life".
Santiago moved to San Jose, married, adopted daughter Debbie and then had Gina. By now he was working as a manager in a paint store, and conducting "how-to" clinics on decorating. At age 29, Lin entered his life. Ten years younger, and a creative spirit herself, she rekindled his interest in art. Santiago and Lin married in 1974, and in 1976 they moved the family to Santa Rosa, N.M. to help brother Ron manage his restaurant, the Club Cafe. Returning to his birthplace, after a sixteen-year absence, was the true artistic awakening. New Mexico is called the "Land of Enchantment" for good reason. The beauty and culture of the area inspired Santiago to paint again. He found using a palette knife and oil paints straight from the tube, to be far superior to brushes in capturing the "textures" of New Mexico, and the Club Cafe Restaurant, an original "Route 66" stop since 1935 provided a perfect venue to display his work, to travelers from around the world. Santiago also had rented a little house in Puerto De Luna, ten miles from home, as a studio, and had had several exhibits in Santa Fe.
In April of 1979, Santiago had his "Premiere Exhibit" in Puerto de Luna, attended by an estimated 3000 people, including New Mexico Governor Bruce King's wife Alice, boyhood friend Rudolfo Anaya, and the American Ambassador from Spain, Jose Llado.
In October 1980, Lin gave birth to Santiago David Chavez II, and life seemed perfect. By now a second restaurant had been built, the Red Rooster Pancake House, across from Motel 6 and Holiday Inn at the east freeway interchange, giving Santiago another venue to display his art. He had also had a State Fair exhibit in Albuquerque, but September 1980, was unexpectedly windy with scattered showers, at the "Spanish Village" exhibit, seriously affecting the outdoor display. A third restaurant was opened in Santa Fe, but remodeling costs and under-capitalization made it a short-lived venture. The two Santa Rosa restaurants, always a seasonal feast or famine, were now competing with chains like McDonalds and Denny's. The writing was on the wall, and the Red Rooster closed in 1990. Two years later, in 1992, the famous Club Café served its' last meal. The closing of this 1935 landmark made national news with Tom Brokaw. Lin went to work for Denny's and Santiago collected unemployment and tried to make a go of a storefront gallery in Santa Rosa, but with much of the downtown traffic diverted up the hill, proceeds didn't match costs. A decision had to be made.
Lin's parents had been living in Nevada for ten years, and Lin and Santiago decided to move closer to them after the 15 years separation in Santa Rosa. So they sold up, moved the art in one trip, then came back and moved the family in September 1994. Santiago found work as a scenic painter, for "Stage Craft" and learned new techniques applicable to his own painting. Lin worked in an office for a while, but when the company was sold, fell back on cashiering skills at the Carson Nugget Casino Restaurants. When the opportunity came up for a Restaurants' Manager at the Nugget, Lin suggested Santiago for the position, and with his years of experience, he was hired. The Carson Nugget offerred occasional display and promotional opportunities on local weekly cable TV shows.
Well, that brings us up to date. At age 68 Santiago has retired and hopes to spend all of his time on his art. Lin decided that a virtual gallery on the Internet, might be the answer. Santiago's art always had a following in New Mexico, but now they were in Nevada, many contacts had been broken. Santiago also had many new paintings from the Nevada and Northern California areas, and a desire to expand his horizons to highlights from "all 50" US states, in an "American Trails Collection".
They had a product. They still had most of Santiago's originals, and with the technological boom of the Internet, perhaps they had a viable market. The main website, www.santiagosart.com is the result and the goal is to make all of Santiago's creations available to anyone who has access to the Internet.
In 2007, Santiago was invited to exhibit at "Two Graces Gallery" in Taos, NM and the opportunity to open his own gallery in Taos was presented. "Santiago's Gallery" at Taos Plaza operated until September 2008, another victim of the economic situation. Ah well, Life goes on, and since then we have been concentrating on more local endeavors, with exhibits and performances at the Jeanne Dini Cultural Center in Yerington, NV (www.YTA.org) and Nevada Artists Association (www.BreweryArts.org, www.nevadaartists.org) in Carson City, NV.